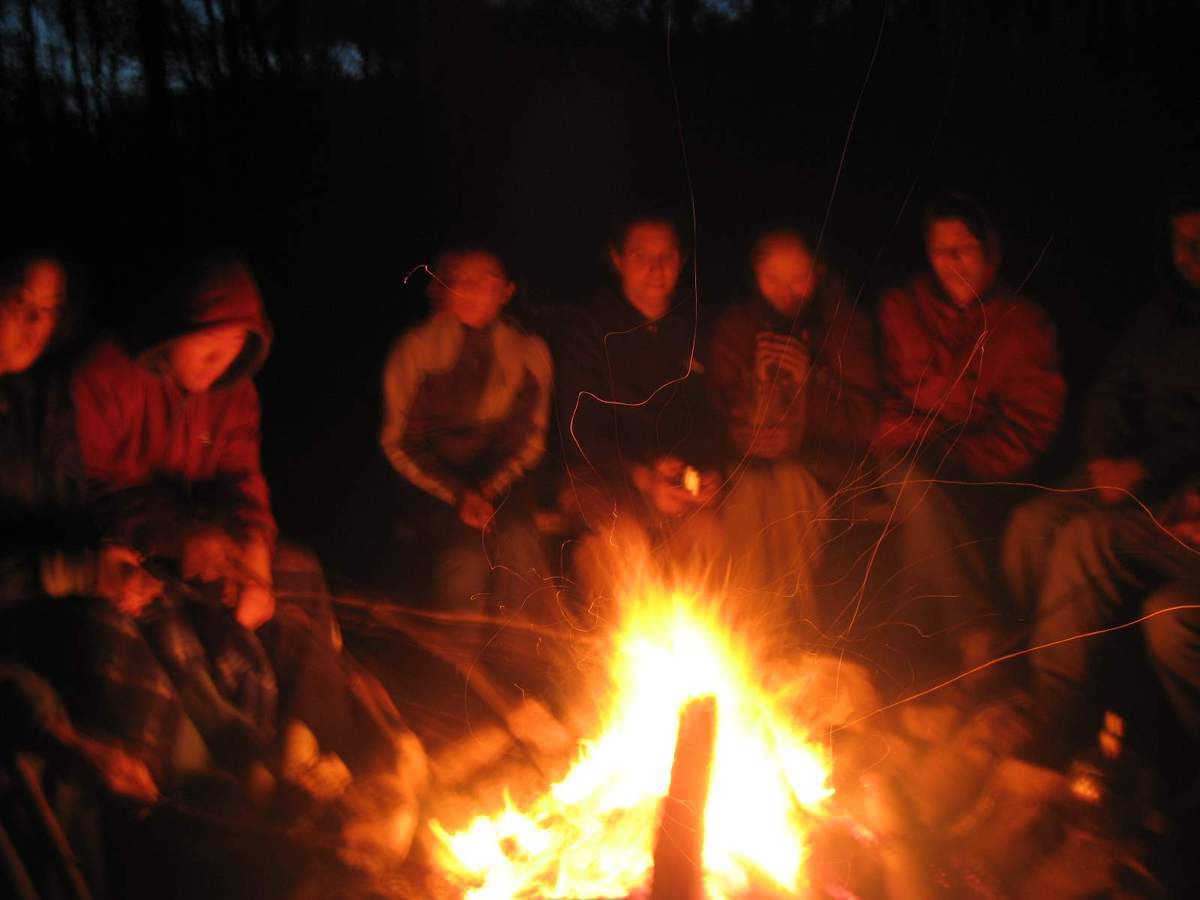 In the United States, nearly nine out of 10 wildfires are caused by people not being careful.
Help prevent these types of fires by learning to be careful and helping others do the same.
Make sure that the grownups building the next campfire follow all the rules below, and tell them to check out the Campfire safety list to learn even more.
Make sure you are at a site that allows campfires.
Make sure there are no burn bans and it's not too windy.
Dig a pit away from overhanging branches.
Circle the pit with rocks.
Clear a 10-foot area around the pit down to the dirt, removing anything that could catch on fire.
Stack extra wood upwind and away from fire.
After lighting, throw the match into the fire.
Never leave a campfire unattended; an adult should supervise the campfire at all times.
Keep a bucket of water and shovel nearby.
Never put anything but wood into the fire.
Do not pull sticks out of the fire.
Do not sit on the fire ring or rocks around the campfire. They will heat up quickly and they'll stay hot for a long time.
When it's time to put the fire out, dump lots of water on it, stir it with a shovel, then dump more water on it. Make sure it is COLD before leaving the campsite. If it's too hot to touch, it's too hot to leave!
And remember, never play with matches, lighters, lighter fluid or other flammable liquids.
If you find any of these items, tell a grownup where they are.
If you see younger children playing with them, tell them to stop, and then tell a grownup.
Children who help prevent wildfires deserve praise.
.
W Stanach Zjednoczonych prawie 9 na 10 pożarów spowodowanych jest przez ludzi, którzy nie są ostrożni.
Zapobiegaj tego rodzaju pożarom, ucząc się uważności i pomagając innym robić to samo.
Upewnij się, że dorośli budujący kolejne ognisko przestrzegają wszystkich poniższych zasad i każ im sprawdzić listę bezpieczeństwa na ognisku, aby dowiedzieć się jeszcze więcej.
Upewnij się, że jesteś na stronie, która pozwala na ogniska.

Upewnij się, że nie ma zakazów palenia i nie jest zbyt wietrznie.

Wykop dół z wystających gałęzi.
Koło dołu ze skałami.

Oczyść 10-stopowy obszar wokół dołu do ziemi, usuwając wszystko, co może się zapalić.

Układaj dodatkowe drewno pod wiatr iz dala od ognia.

Po zapaleniu rzuć zapałkę w ogień.

Nigdy nie zostawiaj ogniska bez nadzoru; dorosły powinien przez cały czas nadzorować ognisko.

Trzymaj w pobliżu wiadro wody i łopatę.

Nigdy nie wkładaj do ognia niczego poza drewnem.
Nie wyciągaj patyków z ognia.

Nie siedź na ognistym pierścieniu lub kamieniach wokół ogniska. Nagrzeją się szybko i długo będą gorące.

Kiedy nadejdzie czas, aby wypalić ogień, zrzuć na niego dużo wody, wymieszaj ją łopatą, a następnie zrzuć na nią więcej wody.
Przed opuszczeniem kempingu upewnij się, że jest ZIMNA.
Jeśli jest zbyt gorąco, aby go dotknąć, jest zbyt gorąco, aby wyjść!

Pamiętaj też, aby nigdy nie bawić się zapałkami, zapalniczkami, zapalniczką lub innymi łatwopalnymi cieczami.
Jeśli znajdziesz którykolwiek z tych przedmiotów, powiedz dorosłemu, gdzie się znajdują.
Jeśli widzisz młodsze dzieci bawiące się z nimi, powiedz im, aby przestali, a następnie powiedz dorosłym.
Dzieci, które pomagają zapobiegać pożarom zasługują na pochwałę.