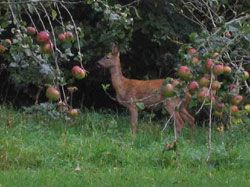 As we brush up against October,
we are still waiting for our first hard frosts of the year.
In years past, we could have had snow by now.
It is so much milder now.
But the snows will come soon enough and there's not a lot happening in the garden. Just as well, since the focus turns towards the forest come late August. There is much berry picking and mushroom gathering to do. The colours in the forest are beautiful for the moment; the birches a yellow-leaved explosion.
The deer have already started to venture into the garden. There was one nibbling at the leaves of my apple trees last night. Not so much driven by hunger – yet. For the moment it is just a sheer brazenness. But later this winter, in times of desperation, they will attempt to feast on the yew. I will need to protect each tree with an individual chicken-wire cage. That's a job I'd rather not have ….. a weekend of bloodied, frost-biten fingers.
I'll turn the compost one more time - there has been a lot of additions to it late this summer. And then that will be me done outside until next April ..... when the snows finally melt.