The making of cheese on Scottish Islands has long been practised as a way of conserving the rich plentiful milk of spring and early summer, the grass is stimulated into luxuriant growth.
The cows then have an abundance of herbage on which to graze.
They show their appreciation by filling the milk pail, so giving to our island cheesemakers the opportunity of practising their ancient craft.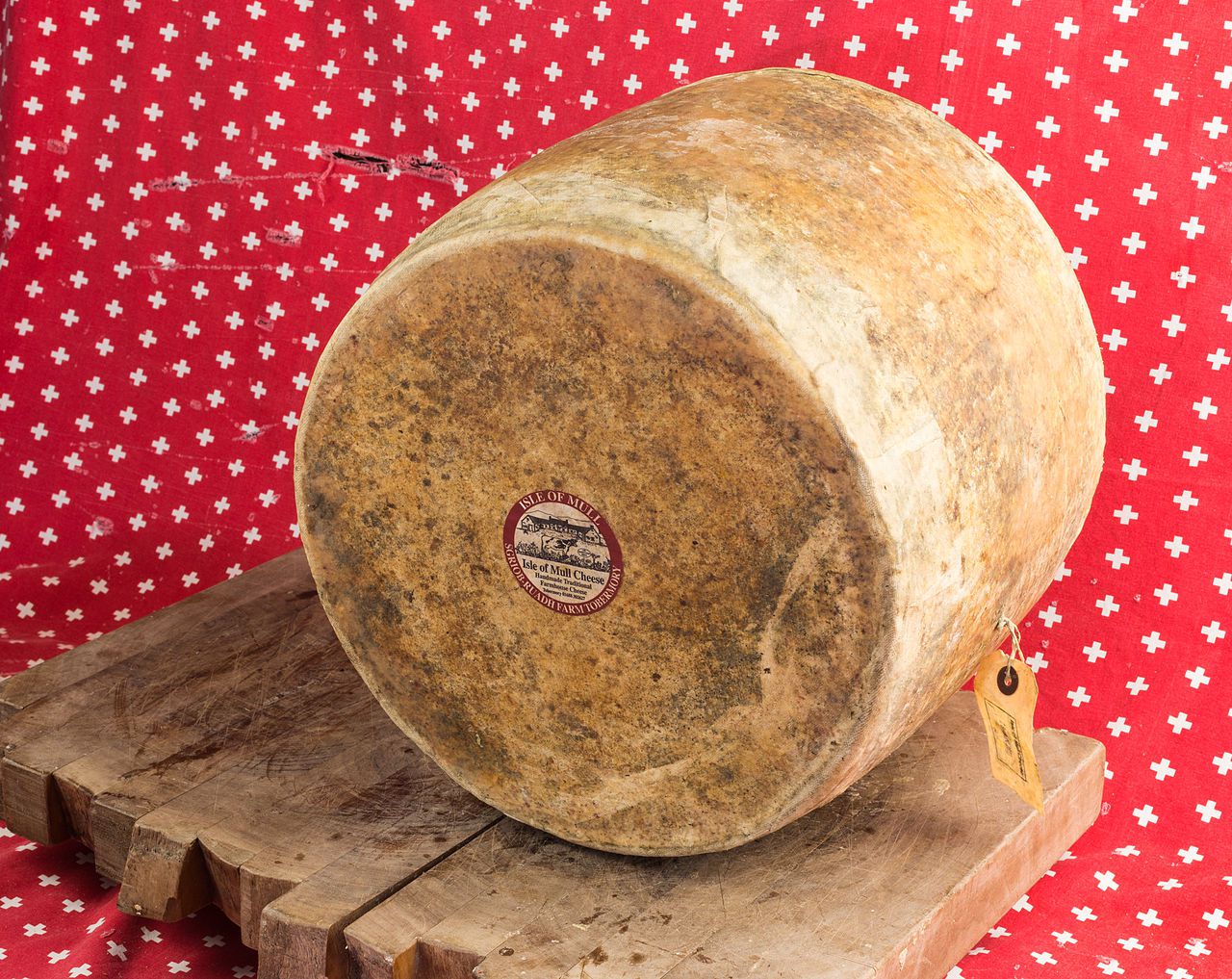 This tradition is still very much alive on the Isle of Mull.
At Sgriob-ruadh farm,
close by the island's delightful and principal town of Tobermory, Isle of Mull Cheese is made.
At Sgriob-ruadh (Gaelic: meaning "Red Furrow" and pronounced Ski-brooah) the cows are predominantly Friesian but the odd Ayrshire or Jersey. Most recently, Brown Swiss cows have been introduced. Their milk is especially suitable for the making of fine cheese.
Fine cheese, of course, can not be made with out the very best of milk. No cheese is made with fresher milk than that used at Sgriob-ruadh. Here, in the morning, as the cows are milked, their milk is taken directly from the milking parlour to the cheese-making vat. This is the freshness denied to the large scale, factory-like cheese-making plant of today,
who must first collect their milk by road-tanker from many farms over a wide area.
Milk deserves to be treated more kindly! By having complete control over its production and care, we are able to ensure that at all times it gets the respect it deserves. Isle of Mull Cheese milk is therefore spared the effrontery of pasteurisation. pasteurisation is an unnecessarily brutal way of treating milk to be used for the making of Isle of Mull Cheese. Far too many of those organisms, which have the potential to create individualism and maturity of flavour, are indiscriminately sacrificed in the process.
This cheese is as natural as possible, not even adding colouring (commonly used in cheese making). For that reason, the cheeses we make in winter, when the cows are being fed hay, are whiter in appearance than those made when fresh, green grass is more readily available. We want our cheese to be recognised for its individuality of flavour and taste - not by the brightness in colour!!
From time to time, blue veins develop in "Isle of Mull". This is a natural blueing considered by many to be a delectable bonus; certainly it is not harmful and generally such blueing is found in cheese of especially rich maturity.