When Beeching butchered the railways for the English Conservative government, at the cost of 67,000 jobs and to the massive inconvenience of many, it was in fact but a tiny precursor of what the Tories are about to do to Britain now.
But who could possibly have benefited from the Beeching cuts, I hear you ask?
Anyone with an interest in roads, road building, road freight and increased private motor ownership. Wonder how many Tories got invested in any of that before the motorway boom?
I will say this for the railways. I adore travel by rail, and will continue to use the trains to travel far and wide, including throughout Europe when the pandemic eases sufficiently.
Travel by air? Uh uh, that's for the birds.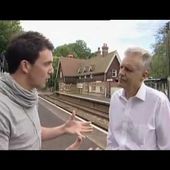 Down the Line - A look into the legacy of the cuts made to the rail network by Doctor Beeching
Joe Crowley meets the people who battled to save their local railway lines in the South of England in the 1960's. First aired on BBC One 26th October 2008