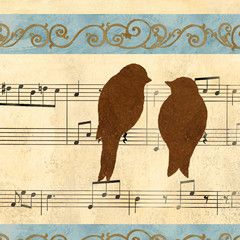 Beethoven put birdsong into his 6th symphony,
'The Pastoral'.
He also included a tavern band
suggesting that they had the drink taken.
I have heard a few jazz bands, of the trad type,
who quite definitely had sampled the local brew,
but usually to good effect.
Up in Scotland
we have a fine dawn chorus
with lots of diversity.
Starts usually with the house martins under the eaves debating what to do, then builds from there as the light strengthens.
If the birds are not singing, they're screaming
What If Birds Don't Sing They' Re Screaming
More like shouting. And really good shouting too!