Machair
is a Gaelic word meaning fertile low lying grassy plain. This is the name given to one of the rarest habitats in Europe which only occurs on exposed western coasts of Scotland and Ireland.
Machair habitats in the Outer Hebrides run up the western shores of Uist, Harris and Lewis.
Here sand, largely made up of crushed shells, is regularly blown ashore by Atlantic gales. Over time the calcium rich shell sand and traditional Outer Hebrides crofting land practices have led to the development of a mosaic of fertile Scottish grassland habitats renowned for its Outer Hebrides wildflowers, Western Isles birds and insect life.
The most extensive areas of Outer Hebrides machair can be found on the West Coast of the Uists. Here you'll see the succession from dunes to grassland and traditional arable cultivation worked in rotation. On the fallow areas that have recently been cultivated you'll find the greatest diversity of flowers where up to 40 Western Isles plant species can be found within a square metre.
Many of these are quite common Outer Hebrides Flowers but it's the sheer abundance of blooms that makes the machair so special. The colours change through the season with yellows dominating at first and then fading into reds, whites and blues.
However, the Western Isles flora on display on each machair is different depending on the history of land use and the local environment so it's worth visiting several areas. Flowers of the Outer Hebrides are at their best between mid June and mid August.
The diverse plant community supports a rich insect life.
The rare Great Yellow Bumble Bee
and the unusual Belted Beauty Moth
with its flightless female form are two of the most characteristic machair insects found in the Outer Hebrides.
The machair are bustling
with Western Isles bird life at all times the year.
Corncrakes and breeding waders
are the most distinctive spring arrivals.
Large flocks of geese, lapwing and golden plover
make this their home in winter.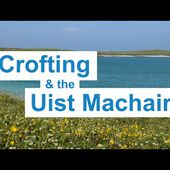 Cultivations will be underway soon on the Uist machair, growing crops and managing the land for high biodiversity. This lovely video explains how and why tra...