Incredible but German and Dutch foresaw the virus last year and have made this excellent program it is in English subtitles so many people can watch it and enjoy the drama.
In the drama they are advised to wear face masks
and practice social distancing.
Quarantine rules are introduced,
and conspiracy theories abound
over the origins of the outbreak.
This was "a post-apocalyptic disaster thriller merged into a modern epic" that explores "what happens to modern people when the thin varnish of our civilisation collapses".
It was nearly pulled after bosses in German expressed concern it might be too close to reality for viewers to cope with.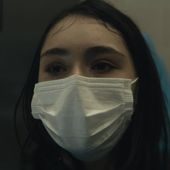 sloborn #sløborn #virus #alvart #kolmerer #syrrealentertainment #zdf #tobis #nordisk #medienboard #katastrophe #insel #influenza #nordsee #deutschland #däne...