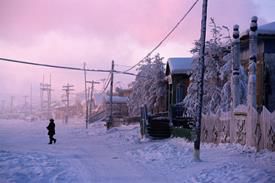 In the small town of Verkhoyansk, Russia,
residents of this isolated village
just north of the Arctic circle
recently experienced something
unprecedented even for them:
Scorching summer heat
of 100.4 degrees Fahrenheit.
That temperature will likely set a new record, blowing way past the June average high of 68 degrees. If confirmed by the World Meteorological Organization, it will be the hottest temperature ever recorded in the Arctic circle.