The Glasgow ice cream wars
A Brief History of: The Glasgow Ice cream Wars
Help the Channel Grow Like, Comment & Subscribe! Hello and welcome back to another video and today we will be looking at the glasgow ice cream wars. War...... Wa...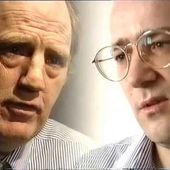 'Trial And Error - The Glasgow Ice Cream Wars' - Channel 4
Channel 4 Documentary on TC Campbell & Joe Steele, the two men convicted of the murders of the Doyle family from Glasgow in 1984 in what became known as 'The...