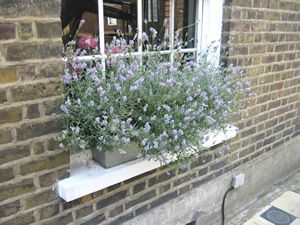 Even without a garden.
We could grow things.
Growing plants.
Growing nice plants
Growing creation.
Even in a lockdown.
With a hand of seeds.
Seeds, seeds, seeds.
Tiny wee seeds.
Lavender seeds.
All needed was Sun.
Feburuary to March
Lockdown had begun
So put the seeds -
Cold into the fridge.
Waiting for Spring
Waiting for the Sun.
March to April
Still in Lockdown.
Spring had come.
Lavender seeds
Out of the cold.
Onto the windowsill
Into empty joghurt pots.
Sprinkling some water.
Lockdown everywhere
Water sunshine seeds
Starting to create a life
A life of Lavenders.
Just waiting on the sill
Waiting in the joghurt
Waiting for the Sun
As you wake to see
To see if they sprout.
Each morning.
To the Windowsill.
Each morning.
To the joghurt pots.
To seed the seedlings
To sprinkle water.
To sprinkle words.
Lockdown still continues.
Paris- Belfast - London
But we are happy.
Happy with our wee world.
Happy with creation.
Happy with our selves
Happy.
April to May.
This lockdown 2020
Lavender seeds.
Popping up their heads.
Popping to say hello.
Alive on the windowsill
Alive in the four walls
Alive in your house.
New lives created.
Spring creation.
Bringing Joy.
Bringing Life
Bringing colour.
Bringing Hope.
All is good in Lockdown.
As Spring ends.
May to June
Lockdown continues.
Summer has begun.
2020 in collective captivity.
Yet there is freedom.
Freedom on the windowsill
Movement of the leaves.
The lavender seedlings.
Have grown.
Enough to see them flitter.
Potential to soon blossom.
Potential to give hope.
Each morning as we greet.
Each morning to just linger.
Linger at the joghurt pots
Where the Lavender smiles.
Indeed there is blossom.
Blossoming Lavender
Here on the windowsill.
From just a few wee seeds
Here we have the Lavender.
Growing and giving.
Sharing Lockdown.
All is good.
Lavender.
Peaceful.
All is good.