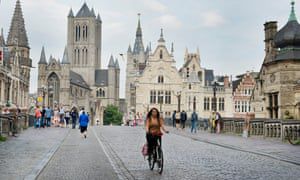 Build the alternative, ban the car.
We can have car free town and city centres throughout the country if we do one thing and that is to stop thinking walking and cycling will replace the car.
Take Bristol as an example.
For years Bristol city councils entire transport policy has been based on the notion that people will ditch their cars and start walking and cycling everywhere in a city famously built on hills and lets be honest a city not blessed with the most enjoyable weather.
As a result the mass transit system that the city has been crying out for for 30 years is still a pipe dream that recently has turned into fantasy territory with our mayor suggesting instead of a tram system at a cost of hundreds of millions (which we might feasibly be able to afford), we look at an underground rail system at the cost of billions that would benefit about 5% of the city and a project we'd still be paying for in 200 years time.
You just have to look at the picture of Ghent to see where they have got it right.
A big old tram in amongst all those people.
As I say, build the alternative, ban the car. It's almost too simple.