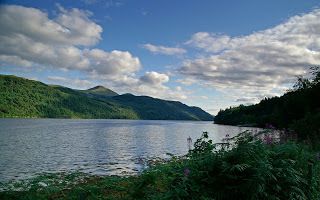 Beside that walking affords me countless hours
of solitude and silence apart from the meditative,
steady pounding of feet and especially when done in the beauty of nature,
it is not surprising that people eventually think about some of the big questions in life while walking.
An inner censor tends to kick in and blocks the progress we were starting to make towards ideas that
– though important and interesting –
also presented marked threats to short-term peace.
It allows us to wander more freely through elected regions of our inner landscape.
Themes we'd lost touch with – childhood,
an odd dream we had recently,
a friend we haven't seen for years,
a big task we had always told ourselves we'd undertake
– float into attention.
In physical terms, we're hardly going any distance at all,
but we're crossing acres of mental territory.
A short while later, we're back at the office or at home once again.
No one has missed us,
or perhaps even noticed that we've been out.
Yet we are subtly different:
a slightly more complete,
more visionary, courageous and imaginative version
of the person we knew how to