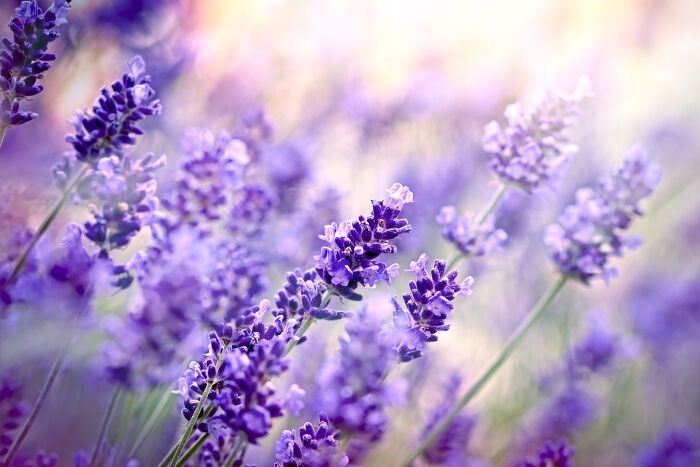 The ancient name of lavender was spikenard.
There are many Biblical references to spikenard
and to its price.
Lavender products were extremely precious at that time.
From the Gospel of Saint John: "Then took Mary a pound of spikenard, very costly, and anointed the feet of Jesus, and wiped his feet with her hair: and the house was filled with the odor of the ointment." [Chapter 12, Verse 3]
Stories from the Bible and legends became entwined over time.
It was thought that Adam and Eve took lavender with them when they were banished from the Garden of Eden.
One legend claims that lavender had no scent at all until the Virgin Mary laid the baby Jesus' clothing on a lavender bush to dry and, with her saintly touch, bestowed its scent upon it for his pleasure and protection.
That may be the source of lavender's reputation as a traditional safeguard against evil.
And of the custom of hanging a cross made of lavender over an entryway for protection.
In Tuscany children were given sprigs of lavender to carry for protection and in North Africa women wore it to protect themselves from abuse from their husbands.
.
It is common knowledge that lavender is an herb which promotes relaxation, emotional balance and serenity.
lavender is the same thing as "spikenard" or "nard" that is found in the Bible.
Lavender (genus Lavandula) is named from the Latin "lavare," which means "to wash." Ancient Romans used lavender in their famous baths as a perfume.
People knew you were clean because you smelled of it afterward!
The Greeks called lavender "nardus," referring to the city Naarda, where lavender was often sold.
Many simply called the plant "nard."
However, the Romans called lavender "asarum," because they believed the poisonous asp viper lived among lavender bushes.
The lavender herb has been used for over 2,500 years, starting with the ancient Egyptians who used it as a part of the mummification process and also as a perfume.
It's use was also widespread among the Arabs, Romans and Greeks.
Modern Wiccans believe its magical properties include sleep, long life, peace, wishes, protection, love, purification, visions and clarity of thought.
Christians of earlier times regarded lavender as a safeguard against evil, and hung a cross of lavender over their door for protection.
The holy use of lavender that bathes its dying patients with lavender-scented water.
It relaxes the patient as well as their family.