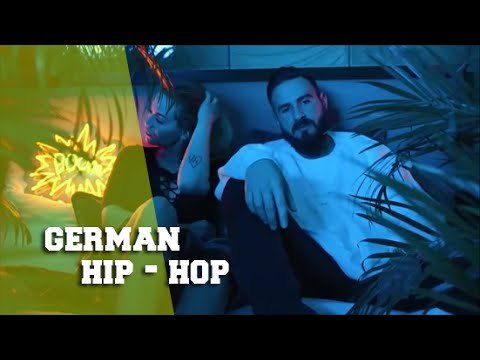 German Hip-hop
From the early days of 'Rapper's Delight', hip-hop took flight from its roots in Northern America to influence an entire new global movement. As differing cultures found their own footing in rap, developing their quintessential flavour, it didn't take long before Germany found its very own 'Rappers Deutsch'.
Initially taking cues from the likes of Public Enemy, the sample-heavy, politicized sound has found its very own identity amongst a myriad of multi-cultural nationals, with a heady mix of old and new styles. Breaking down the starting points, biggest artists and latest trends, this is the ultimate guide to German hip-hop.
German hip-hop is real, and comparatively, it's as important as electronic and rock music when it comes to the cultural conversation. Today, there's a multitude of styles, both on the over- and underground. Going back, German hip-hop can trace its roots to the town of Heidelberg in the mid-to-late 1980s. Frederick Hahn, better known as Torch, was an MC for Advanced Chemistry, a local political hip-hop group whose members came from immigrant families. The group – one of the first to rap in German – were vocal in their support against racism, police violence and right-wing politics, politicizing their own identity as Germans while the country was forging a new cosmopolitan future. One of their biggest-selling singles was called 'Fremd im eigenen Land' ("foreign in my own country"), placing pro-immigrant politics in the mainstream and setting a template for what was to come.
At around the same time, a very different type of German hip-hop group emerged: Die Fantastischen Vier aka "The Fantastic Four". The rappers from Stuttgart sought to distance themselves from the American sound, aiming to create something inherently more German, and ultimately more attuned towards commercial success. But with two separate ideologies, Die Fantastischen Vier became embroiled in a classic rivalry with Advanced Chemistry right from the get-go, pitting the two different hip-hop communities against each other.
Alongside acts such as Fettes Brot and Fünf Sterne Deluxe, the early 1990s became dominated by a contingent of similar white, middle-class hip-hop groups. With chart-topping hits, the scene was set for Germany's hip-hop community to grow while simultaneously cementing a very unique, German twist to hip-hop's quintessential nature.
Towards the end of the 1990s, German hip-hop became narrated through second-generation immigrant musicians who eventually went on to become the scene's stars. "The biggest German hip-hop artist of all time? Most would say that would be Kool Savas," says Marc Leopoldseder from a leading German hip-hop publication
Born to a German mother and a Turkish father, Kool Savas brought a more ardent, street sound to the whole scene, scoring number one chart positions with his albums Aura and Märtyrer. As immigration in Germany increased during the 1990s, hip-hop became an ever-important vessel for those whose voices needed to be heard, especially the Turkish, which there were two million of towards the end of the decade.
Another of the scene's biggest artists was Bushido, a controversial artist with a Tunisian father and German mother. "He's like the godfather of German gangsta rap, and a big role model for Arab and Turkish kids," explains Marc. "He was the first famous rapper that didn't want to look like an American, but more like the guys from the rough Berlin neighbourhoods." Along with the likes of Kool Savas, edgier rap artists helped further politicize the scene, driving home a darker street sound. Artists such as Sido, Kollegah, Haftbefehl and Megaloh all started to create a new German hip-hop identity, along with one of the most prominent rap stars from this time, Hamburg's Samy Deluxe.
In Europe, every country claims its own hip-hop identity, with France having the most unique and formidable character. In recent years, a lot of German acts have been taking their cues from the explosive Parisian duo PNL, an act that has been blowing up with its unique flavour and socially-rooted rap. "As most of the German street rappers have Turkish, Arab, Persian or Kurdish roots, they identify more easily with French rappers than with Americans," Marc explains.
One such recent outcrop of musicians who have taken influence from PNL is 187 Strassenbande, a crew from Hamburg, consisting of Gzuz, Bonez MC, Maxwell, LX and Jambeatz. The 2016 LP Palmen aus Plastik released by Bonez MC and Austrian producer RAF Camora went to number one in Germany, and incorporated many modern style elements, with dancehall and trap influences.
"Another crew that's very hot at the moment is KMN Gang," Marc points out. Hailing from Dresden, the KMN Gang rap about marginalization and criminality, taking many stylistic and lyrical cues from PNL and the French scene. Along with the more modern trap-based beats, Marc is keen to point out the "weird, cloudy, and artsy flavours".
Artists such as Young Hurn, LGoony, Juicy Gay and Haiyti are leading examples of young musicians creating new and exciting styles within the community. The latter, an exciting female rap artist from Hamburg, was described by Noisey as "the best and most innovative German rapper of our time". Haiyti is also part of a newer contingent contesting the predominately male scene, alongside Leila Akinyi and controversial Berlin duo SXTN.
Like Germany's ever-growing international community, the scene is broad, accommodating all types of hip-hop. From dancefloor-oriented Peter Fox to the goofy witticism of CRO, from Berlin rogue troop K.I.Z. to the comedic and easy-going nature of MC Fitti, there's a rich variety for all. There's even room for a group consisting solely of hand-puppets, the Puppetmastaz. With the influx of Syrian migrants, it's only a matter of time before the cosmopolitan community grows in diversity even more. One such artist who migrated to Berlin during the Syrian civil conflict was Mohammed Abu Hajar of the Mazzaj Rap band, who is already making waves on a local level.
Due to language limitations, German hip-hop will never be able to challenge its American counterpart, but when checking the charts of leading hip-hop store store HHV, independent sales tell a very different picture. Re-issues of Fünf Sterne Deluxe sit next to Anderson .Paak and Joy Denalane in the top 100. Local beat-music collective BeatGeeks have a compilation record alongside local rappers Audio88 and Bushido, in a top sellers list that also includes A Tribe Called Quest and Sleaford Mods. It goes to show that in Germany, there's still space for a wider, creative outlet.