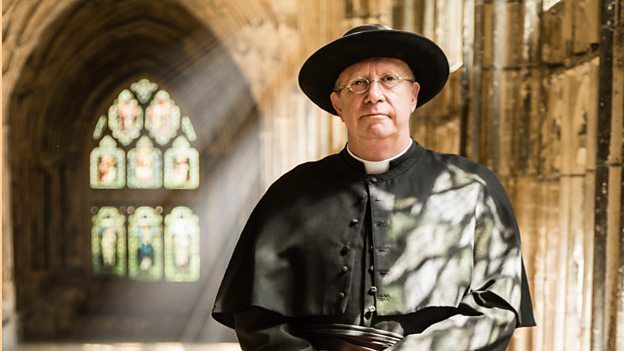 Father Brown was based on a real person – Father John O'Connor, a parish priest in Bradford, who was closely involved in Chesterton's conversion to Catholicism in 1922. We first meet Father Brown in "The Blue Cross", where he is described as "a very short Roman Catholic priest" with "a face as round and dull as a Norfolk dumpling; eyes as empty as the North Sea". However, his unprepossessing exterior hides a sharp mind, which thwarts the attempts to steal the cross, and traps the criminal.
His is the human element, far away from the cold scientific exactness of a Sherlock Holmes. When persuaded to tell his secret, he says: "I had murdered them all myself. So, of course, I knew how it was done." He gets into the mind of the killer "to see the world with his bloodshot and squinting eyes". He also uses the experience from his pastoral ministry: "'Has it never struck you a man who does next to nothing but hear men's real sins is not likely to be wholly unaware of human evil?"
There is a basic Christian humanity about Father Brown, and there are Christian messages running through the books. He talks of forgiveness and understanding, of the secrets within men's hearts, of the power of repentance. He has little time for superstition, but looks for a rational explanation. The books are full of great quotes, such as: "Humility is the mother of giants. One sees great things from the valley; only small things from the peak".
Chesterton is a master in setting atmosphere and a spirit of place. Some of his stories have a very gothic feel to them. He has a vivid turn of phrase; maybe not today's style but which enables the reader to draw the scene in their mind's eye. And through the twists and turns of the stories sits the quiet figure of Father Brown.
Chesterton was a prolific author. He wrote around 80 books, several hundred poems, some 200 short stories, 4000 essays, and several plays. He published works on St Thomas Aquinas, St Francis of Assisi and Charles Dickens. He used paradox and humour to point out the incongruities of everyday life, through his columns in newspapers and magazines. His book "The Everlasting Man" was described as "the very best defense of the Christian position" by CS Lewis.
Any claim for beatification would rest on Chesterton's whole output. But for me, Chesterton will always bring to mind a stumpy black-clad figure with an umbrella, waiting patiently to cast light on the darkness within men's souls.