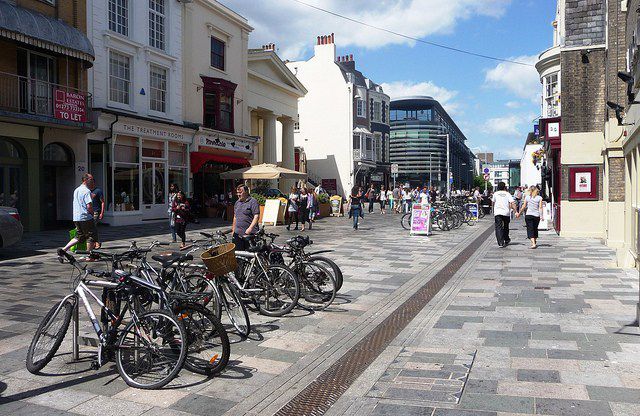 We have to look at the
problems of the pedestrians,
particularly the aged ones,
at a global level.
It is a sad state everywhere -
in the cities of USA, Europe or Asia,
here you can see a virtual decimation of footpaths (call them sidewalks if you like), which are encroached, if they existed in the first place, by illegal parking, by hawkers or by apathy of the municipal agencies who dump debris, keep the manholes uncovered on the footpaths, and so on.
It happens frequently in tropical countries, though even in places like L.A., where sidewalks are occupied illegally by homeless.
Any new infrastructure is provided in terms of widening of roads only for vehicular movement, at the cost of the pavements.
Even if there is a park located close to the residence of a senior citizen, the problem remains how to go there, more so if this old person is wheel-chair ridden.
Good walkable paths for pedestrians
exist only in large residential complexes,
leaving out those
who live in independent housing.
And though the problem of encroachments is largely compounded by a large exodus of migrants from the countryside to the towns in search of jobs in Asia or Africa etc., they too need a space to walk on, even if they live in slums or have 'occupied' the footpaths as hawkers. Rising prices of petroleum products is no deterrent to the purchasing of new automobiles and 2-wheelers, anywhere in the world.
Recent incidents of massive demonstrations in Dhaka following a road accident involving a student is proof enough that problems of pedestrians are crying for attention and need to be handled seriously.
So, what is are the solutions?
1. All use of automobiles for personal and private use must be banned across the world.
This will also rid the cities of the pollution problems to a large extent.
If Amsterdam can travel largely on bicycles or on foot, then other towns can, too.
Paris is trying single vehicle free days in a month or two to gauge the infrastructure to replace private cars, more and more.
Public transport systems must be expanded to serve all, rich or poor.
Travelling must use only train/Metro and city bus services, or taxi services,
Let the rich travel to their place of work and residence in taxis,
maybe expensive Mercs or BMWs if they wish to remain exclusive,
so that their private vehicles don't occupy parking places full day when these aristocrats spend time in offices or restaurants, etc.
The only automobiles on roads should be of essential services, such as ambulances, police, public trucks for transporting goods, or for other exclusive governmental use.
2. No vehicle should be allowed to be parked on the roadsides in towns or near the residence of the vehicle-owners.
The parked vehicles on roads and streets obstruct the smooth movement of pedestrians.
In fact, first axe must fall on the automobiles which have been purchased by owners who have no private parking places like garages.
3. All pavements and footpaths must be maintained by the municipal authorities responsible for doing so.
Heavy penalties must be imposed where these are encroached or when not kept in conditions suiting the pedestrians to walk on, and wheel-chairs can be moved on them smoothly.
If the above conditions are met,
then the roads will have ample space to provide bicycle tracks
and pavements for pedestrians.