Gardening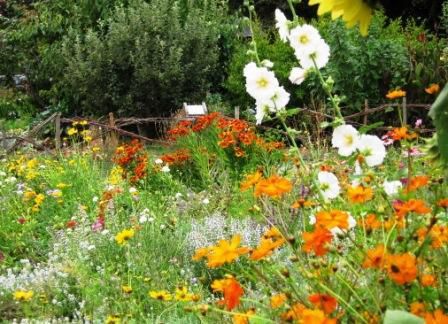 Plant winter bedding such as pansies and sweet peas, this creates lots of much appreciated colour

in winter and early spring.

I prefer to soak them and then sow a few seeds in deep cellular trays for ease of transplanting. Plant them so you can see them from indoors and make sure you plant them close together as they do not fill out as much as summer bedding.
Avoid walking on lawns that are affected by a ground-frost. During a mild spell give a modest-sized lawn a good raking with a rake.

If leaves are left they can cause bare patches in grassy areas.
If you do not already have a compost bin – this is a good time to get one. The leaves collected from around the garden can be made into compost, the leaf mould is great for dressing rhododendrons and lily bulbs.
Prune and shape your shrubs, bushes, standard and fan-trained fruit trees. Start by removing any dead or diseased branches, create an open frame-work of strong, healthy branches. Cut out sections which rub against each other and reduce exceptionally long branches by a third. This will prevent damage during the winter months. Plum trees require little in the way of pruning but branches should be thinned.
Clear and tidy the vegetable patch from out of date or broken debris. Roughly dig over the soil, there is no need to worry about the lumps of earth as the winter weather will take care of this. During the winter months you can harvest vegetables such as Brussel sprouts, leeks and winter cabbage; make sure that they are protected from pigeons.
Plant spring bulbs like crocus, tulips and daffodils. Make sure they are planted where they can have some protection from the cold weather – along hedge lines or under trees. The general rule of thumb when planting is to plant them in the soil three times the depth of the bulb.
Forcing Rhubarb for an earlier crop can be fun and involves placing some dry mulch, such as straw around the dormant crown and then placing a forcing jar or up-turned container or large pot to exclude the light over the crown. Place the cover over the rhubarb as soon as it begins to show signs of growth.
Protect your smaller non hardy plants such as dahlias and geraniums by potting them up storing them somewhere warmer. Larger plants that cannot be moved like tree ferns and Gunnera – protect them with their leaves or wrap in hessian. If in container move them closer to the house for extra protection.
Pay attention to indoor plants including, orchids, clivias and fuchsias for plant lice, scale insects, whitefly and mealy bugs. Apply a systemic insecticide if there is a severe attack or take a thin cloth with a little washing up liquid and carefully clean infected foliage.
Feed the birds during winter – keeping the interest in the garden while also helping out the birds during the cold weather. This is also great for children to get involved with and can be fun spotting the different types of birds coming into your garden.