Nardini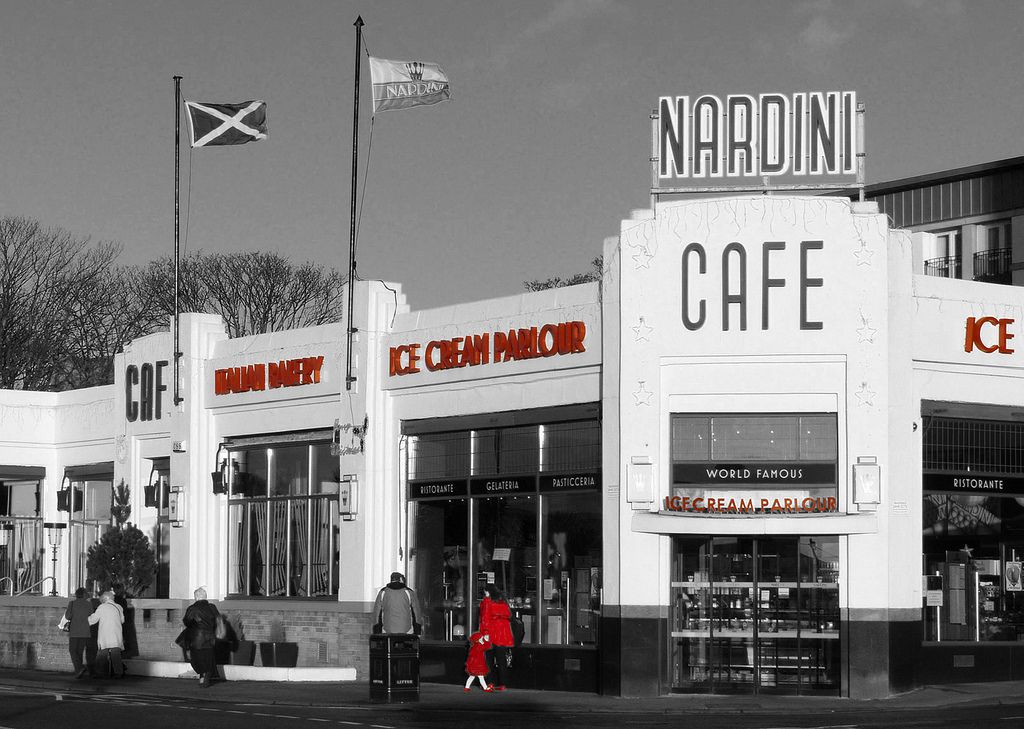 The family fought for its name in the
Scottish ice-cream wars.
The dynasty built by an Italian immigrant had produced an art deco monument to seaside holidays, an ice-cream empire and a famous actor along the way. But, when the ice-cream wars came, the most important thing was the name.
Like Tutti Frutti on a hot summer's day, the war has now melted away. The fight over a family business - which has turned two brothers into virtual strangers, and which made the actor Daniela Nardini say she wanted to hurl stones through the ice-cream parlour built by her grandfather - is over. And the name the family battled over has been lost.
Over the past few years, the Nardini family has resigned, been bought out, or voted off, the Scottish ice-cream empire it built up through generations. There have been court cases, rows, sniping and accusations of treachery, but the endgame is now in play and the last family connection is up for sale. The Nardini family name is about to become just another corporate brand. Set on the esplanade of the Ayrshire seaside town of Largs, Nardini's cafe and restaurant is an institution. The art deco building, as white and pompous as a wedding cake, is the sort of place where coffees will always be frothy and ice cream is best served as a knickerbocker glory.
In its heyday, hordes of cloth-capped and best-dressed daytrippers would get the ferry or train down from Glasgow just to queue for a seat and some of the award-winning ice cream. It was success beyond the avarice of Pietro Nardini. He had arrived in Scotland from Tuscany in 1890, peddled what he could from a suitcase round the doors of Renfrewshire, then ploughed his savings into a meagre cafe.
In 1935, the family sold up and moved to Largs. The meagre cafe blossomed into an ice-cream factory and restaurant, which would serve 1,000 gallons of ice cream, five tonnes of potatoes and 120 stones of haddock each weekend. In the late 70s, however, the Spanish resorts took the tourists and Nardini's went into steady decline.
Pietro Nardini's sons, Aldo and Peter, struggled to keep the family business prosperous. Superficially, it had always been obvious that the two brothers were different. Aldo is tall, handsome and fit (the local newspaper once called him the Sean Connery of Largs); Peter is shorter, smokes and has heart problems. But when, in 1997, they hired an outsider, David Hendry, to turn round the family business, it soon became clear that familial discrepancies ran far deeper than that.
Hendry, a local man and long-term friend of Peter, had made his fortune by building up a chain of funeral parlours. As Nardini's teetered on the brink of liquidation, Aldo and Peter decided he was their only hope of keeping the family name alive. Their cousins and fellow board members disagreed. Ricardo, Roberto and Fabio Nardini began legal moves to block Hendry's appointment. They were unsuccessful and, in the first round of what was to become internecine warfare, they were themselves ousted from the family firm.
"Changes had to be made; Nardini's was about to go under. There were just too many people at the trough," says Hendry. "There were too many differences and nobody had control of the shareholdings, so no one was in control of what was happening to Nardini's. There were just too many people pulling in different directions."
Under Hendry's steerage, the number of Nardinis involved in the family firm dwindled - but the business began to turn the corner. A £200,000 investment in the family factory brought the ice-cream making up to European standards and Hendry drew up plans to open up around 20 franchised cafes. Nardini's would also begin challenging new brands such as Häagen-Dazs and Ben & Jerry's by selling Nardini-branded ice cream to supermarkets.
To Peter, Hendry's proposals were the only way to make the Nardini ice-cream empire survive for another generation. But to Aldo, it was a dilution of the family name too far; he was implacably opposed. "Nardini's wouldn't make the profits of yesteryear but it was still a good business, provided you retained the family presence," he said.
The difference drove the brothers apart.
Between them, through a company known as Hendry Holdings Ltd, Hendry and Peter owned almost 80% of Nardini's. If Aldo wasn't coming with them, he was going from Nardini's.
In May 1999, Aldo was removed from the board of P Nardini & Sons. He says he was aghast as he watched Peter raise his hand. For his part, Peter claims he never voted against his brother and merely abstained. Whichever is the correct account, Aldo was removed from the board of the firm. Since that day, Peter and Aldo have uttered barely a word to each other.
After being ousted from the board - and turning down an offer from Hendry for his 16% share of the family firm - Aldo set up his own ice-cream parlours. The first Il Caffe Casa opened in Edinburgh and was soon followed by another in Glasgow. It was then that the family dispute took an altogether more corrosive turn. At his cafes, Aldo - who claims it was under his influence that the family won the internationally recognised Ice Cream Alliance Supreme Trophy in 1959 - sold ice cream under the family name: Nardini's. Back in Largs, Hendry decided this just wasn't on.
In September of last year, P Nardini & Sons faced Il Caffe Casa across the floor of Glasgow Sheriff Court. P Nardini & Sons accused Il Caffe Casa of misleading customers into thinking they were eating Nardini's ice cream from Largs.
As the sheriff ruled in Aldo's favour, his daughter, Daniela, stood by his side. But, although Aldo's family was united behind him, the Nardini empire was fatally divided.
"I would quite like to throw a stone through the window [of Nardini's in Largs]," Daniela said at the time. "I think, if anything, I feel sad mostly that it has got to this stage. I feel it is a huge loss for everyone. A lot of family have been involved in the business and I would like to see them back, but I do not know if that will happen. The business has been taken over. It is just our name and our reputation."
Following the sheriff's ruling, Hendry said he would appeal. Behind the scenes, however, he struck a deal with Aldo allowing him to sell Nardini's ice cream from his cafes, provided its difference to the Largs original was made clear. In the meantime, Peter Nardini remained a director of the family firm, but his shareholdings dwindled to almost nothing.
Then, last week, Hendry announced that Nardini's was up for sale. The largest shareholders - he and Aldo - had agreed to sell the business. "We are looking for someone with the commitment to develop Nardini's as a brand," he says.
But as the Nardini brand has developed, the empire has declined: like so many entrepreneurs before them, the Nardinis have lost their name.