Consistency and Clarity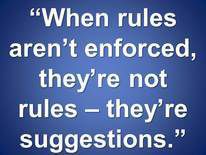 Don't allow all the pressures of the day be an excuse for bad behavior.
If you excuse a child from a rule , then will constantly be testing boundaries to see what they can get away with this time.
So Stay consistent
You have put the rules in place for a reason.
Along with consistency comes clarity.
Children should know what the expectations are and what the consequences will be if those expectations are not met.
When a rule is broken, there should be a conversation about what was done wrong.
That allows the child to take responsibility for breaking the rule.