The Horse Chestnut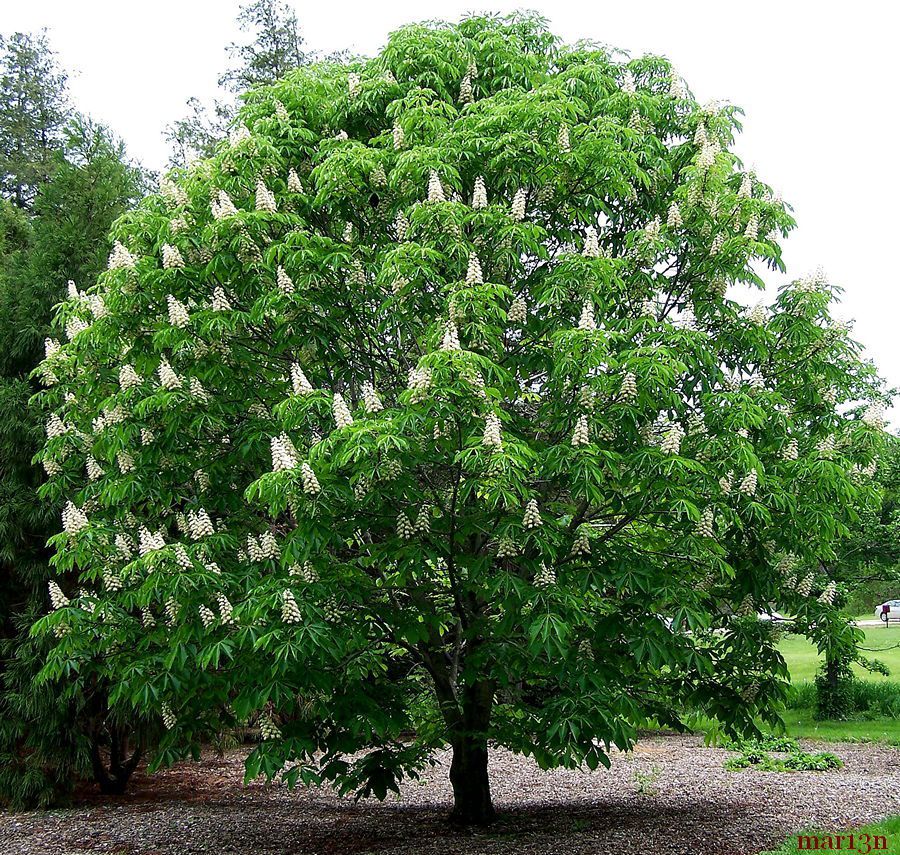 This tree was introduced into Britain from the Balkans in the sixteenth century.
The name 'horse' has nothing to do with horses (as horses will not eat the fruit of the Horse Chestnut), but means 'coarse' or 'inferior', the hard red-brown nut or 'conker' being inferior to the fruit of the Sweet Chestnut.
The bark is smooth, tending to become scaly with age.
The branches are large and heavy and dip gracefully.
The large, sticky buds are arranged in opposite pairs, and each has a horseshoe-shaped scar beneath it.
The leaves open early in April, and there is no mistaking the Horse Chestnut.
It can be distinguished at a glance from all other British trees by its very large palmate compound leaves, the leaflets (five to seven in number) spreading out like the fingers of a hand.
The flowers which may be either red or white bloom towards the end of may or in early June.
Trees bearing red flowers are not so large or robust as those bearing the white variety.
The flowers grow in beautiful upright clusters which, at a distance, look very like candles; indeed the tree is sometimes called the "candle tree".
The Horse Chestnut demands light and so you very rarely find it growing in woods.
In good conditions it will reach a height of eighty to one hundred feet and a girth of up to sixteen feet, but it does not live to a great age.
Because this is a quick growing tree its timber is not durable and is therefore of little use for outdoor purposes.
The wood is white, rather soft and very easily worked, and so is sometimes used for making small articles of indoor furniture.