The cabmen's shelter that I would use was the one on Russel Square, where the food found there was magnificant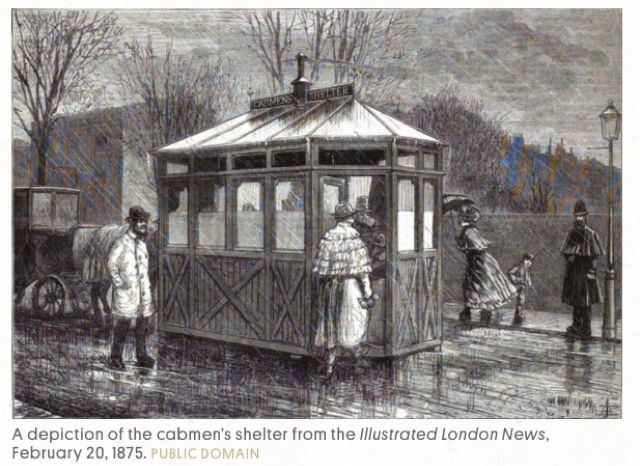 Cabmen's Shelters came about in the late nineteenth century when horse-drawn carriages called Handsom Cabs were the vehicles of choice.
While the paying customer got a seat inside the carriage, the humble cabbie had to sit on top; exposed to the elements and in dire need of frequent pitstops for hot drinks (and often something stronger).
In January 1875, The Globe newspaper editor George Armstrong became furious after he was told by his servant that all available cabbies were seeking shelter in a nearby pub during a blizzard.
His response was to get together some like-minded philanthropists (including the Seventh Earl of Shaftesbury) and create a charity to erect purpose-built shelters providing hot food and (non-alcoholic drinks).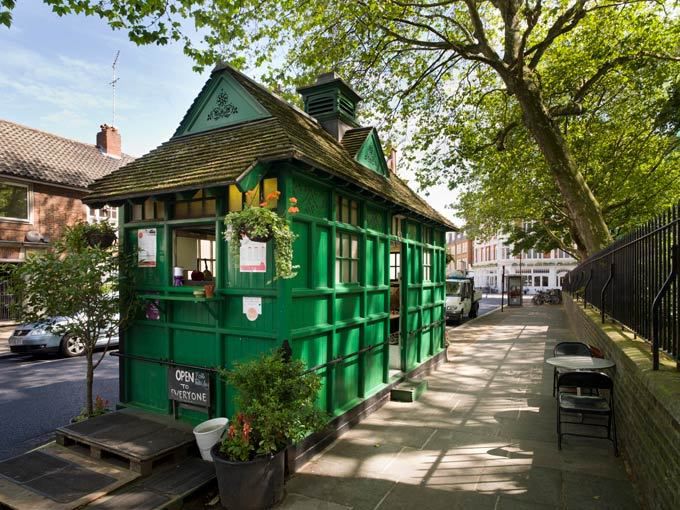 Between 1875 and 1914, 61 shelters popped up across London, costing around £200 each and the very first was in Acacia Avenue, St John's Wood (conveniently near George Armstrong's home).
All cabmen shelters are the same characteristic shed shape, due to Metropolitan Police ordering that they had to be situated on public highways and could be no bigger than a horse and cart.
They also have the same vent at the top, a reminder of the wood-burning stove inside. The statement green colour is also strictly enforced and is the Dulux Buckingham Paradise 1 Green.
Also, see that garland design above 'CSF'? That stands for Cabmen's Shelter Fund, the charity that today helps support them.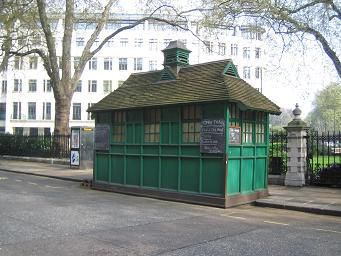 There are now only 13 Cabmen's Shelters in London. What with parking controls and increased vehicle security, we just didn't need them.
However, many are still fully functioning cafes where you can get a coffee (instant) for a quid.
But, only those with The Knowledge are allowed to go inside and sit down.
Thanks to the Cabmen's Shelter Fund, all 13 remaining shelters have Grade II-listed status, so we won't be losing them anytime soon.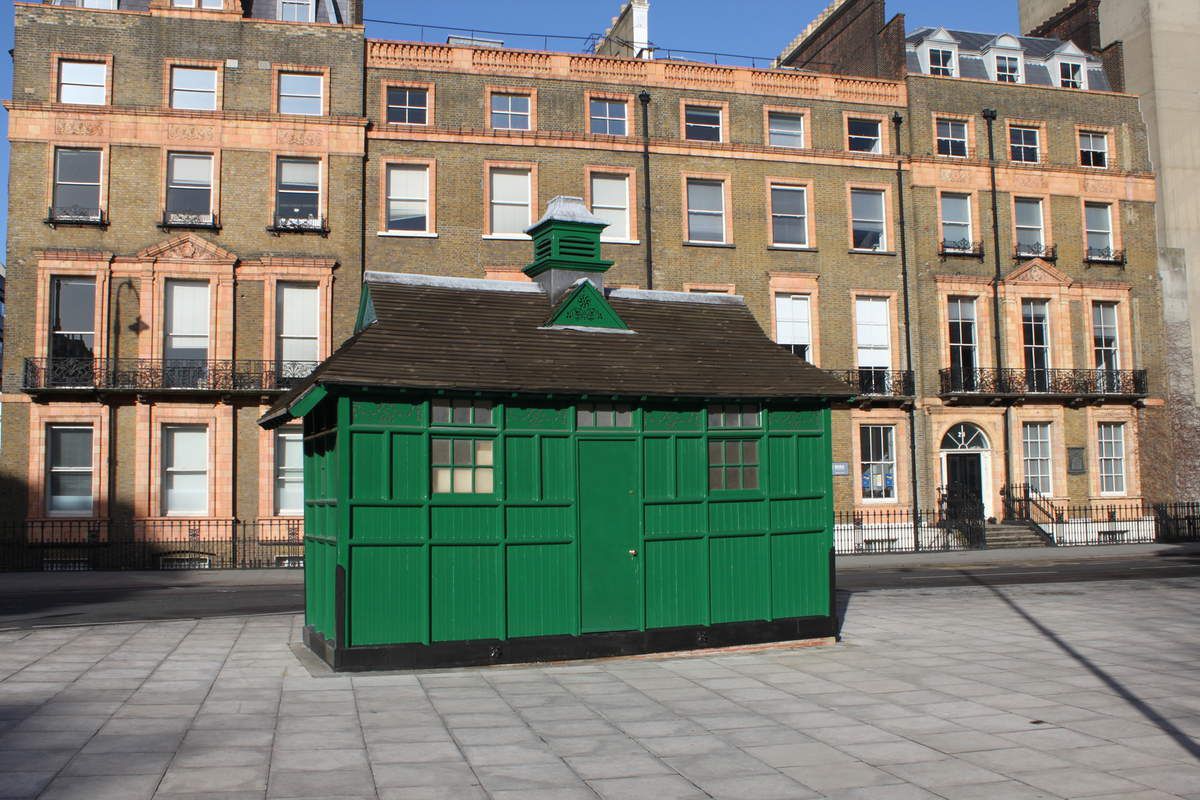 There exist in London 13 cabmen's shelters - green, garden-shed like buildings often smelling of bacon and surrounded by 'black' cabs.
They were provided by the Cabmen's Shelter Fund, a charity set up under the Earl of Shaftesbury and others in 1874 with the object of providing places where cabmen could obtain 'good and wholesome refreshments at moderate prices'.
By this provision it hoped to keep the cabbies out of the pubs !

Between 1875 and 1914, 61 shelters were erected at a cost of about £200 each.
As they were placed on the public highway the police specified that they should not take up more space than a horse and cab.
The Fund still exists exists but with limited resources has been aided in the restoration and maintenance of the shelters by the trust and other donors.

They are Grade II listed and a typical listing description reads as follows:
if you want to view them they can be found at the following locations:
Chelsea Embankment - near the Albert Bridge
Embankment Place (pictured above)
Grosvenor Gardens - west side of north garden
Hanover Square - north of central garden TQ288/SE
Kensington Park Road - outside numbers 8-10 TQ2580NW
Kensington Road - north side TQ2679NW
Pont Street
Russell Square - west corner (previously in Leicester Square)
St George's Square, Pimlico - north side TQ2978
Temple Place TQ3180NW
Thurloe Place, Kensington - opposite the Victoria & Albert Museum TQ2779SW
Warwick Avenue - Clifton Gardens TQ2682SW
Wellington Place, St John's Wood