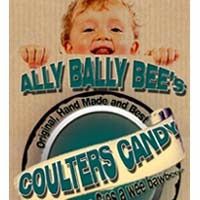 Ally bally, ally bally bee,
Sittin' on yer mammy's knee,
Greetin' for a wee bawbee, (crying) (a halfpenny)
Tae buy some Coulter's candy. (to)

Poor wee Jeanie's gettin' awfy thin, (awfully)
A rickle o' banes covered ower wi' skin, (bones) (over)
Noo she's gettin' a wee double chin, (now)
Wi' sookin' Coulter's Candy. (sucking)

Mammy gie's ma thrifty doon, (give) (money box) (down)
Here's auld Coulter comin' roon', (old) (around)
Wi' a basket on his croon, (with) (crown/head)
Selling Coulter's Candy.

Ally bally, ally bally bee,
When you grow old, a man to be,
you'll work hard and you'll sail the seas,
an' bring hame pennies for your faither and me,
Tae buy mair Coulter's Candy. " (more) "

Coulter he's a affa funny man, (very)
He mak's his candy in a pan, (makes)
Awa an greet to yer ma, (away) (cry) (your)
Tae buy some Coulters candy. (to)

Little Annie's greetin' tae,
Sae whit can puir wee Mammy dae, (so) (what) (poor) (do)
But gie them a penny atween them twae, (between) (two)
Tae buy mair Coulter's Candy.
Recorded as Coltard, Coltart, Coltherd, Coultard, Coulthard, Coulthird, and others, this is regarded as a Scottish surname, although originally recorded in the north of England. It is said to derive from the Olde English pre 7th century word 'colt' meaning a young horse, and 'hierde', a herdsman. If so it is occupational for one who looked after a horse stud. However the Coultharts of Galloway are said to claim descend from Coulthartus, a Roman soldier who fought in a battle known as Mons Graupius. This is possible, almost anything is possible with surnames, but at best, highly unlikely! Another claim is from a Normandy village called Coudhart, again faintly possible. The surname is first recorded at the beginning of the 14th century (see below), and other early recordings include Alan Colthird who witnessed a covenant with regard to fishing on the River Tweed in 1467, and John Colthird said to be a tailor in Edinburgh in 1619. It is claimed that the spellings as Coltart and Colthart, recorded in the registers known as the Commissariot of Kirkcudbright in the year 1655, are still popular in that region. Other examples of recordings include James Coultred, the chamberlain of Crawfurdjohn in 1687, and Walter Coltherd and Isabell Lynge who were married in Selkirk in 1714. The first recorded spelling of the family name is believed to be that of Peter Coltehird. This was dated 1301 in the Subsidy Tax Rolls of Yorkshire, during the reign of King Edward Ist of England, 1272 -1307. Surnames became necessary when governments introduced personal taxation. In England this was sometimes known as Poll Tax. Throughout the centuries, surnames in every country have continued to "develop" often leading to astonishing variants of the original spelling.


Read more: http://www.surnamedb.com/Surname/Coltart#ixzz4nHOPOqjG