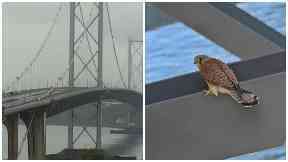 A pair of kestrels have decided to make a landmark Scottish bridge which carries 80,000 vehicles a day their ideal home.
The inside of a steel girder on the Forth Road Bridge in Edinburgh has become the birds' choice to bring up a family.
Bridge workers discovered the couple while repairing steelwork underneath the carriageway and found a nest with six eggs tucked inside at the end of a girder.