Mary Brewster, MONDAY [Mar.] 6 [1848]: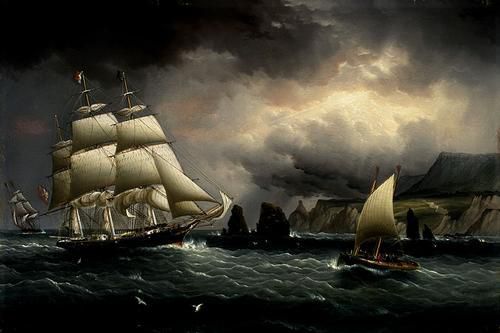 "Weather some better this morning with a light wind from the north ship heading N by W. Middle hard gales from SW and squally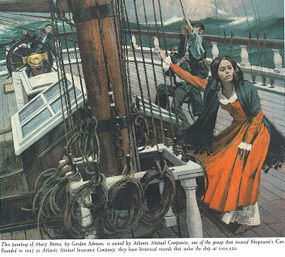 Latter part wind blew a gale and with a very bad sea. Towards night I went below and got into my berth with my dress on.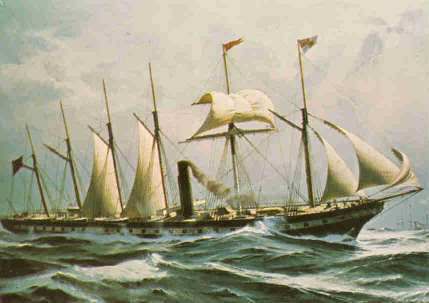 Husband up every half hour feeling concern about the ship, fearful of wearing ship.
At length he said he never could stand it any longer as she labored so hard, so went up and got the ship by the wind which caused the motion to be much easier.
This was about 12, and I had just got to sleep when Mr. B. was called up as Mr. Dunott had fallen over the hatch and hurt himself.
This new trouble caused all sleep to depart and anxiously the first appearance of day was hailed.
I left my companion asleep and made my way on deck.
The wind had abated and the sea was going down. How thankful I was to see the [deck] house standing and be an inmate of it where fresh air could be breathed.
I went to bed and slept soundly till 8, when I was awak'ned by the sound of Breakfast."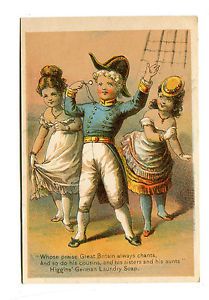 Women at sea often kept great diary stories
This was written on this day during the Victorian era by an American Mary Webster.
This Monday of the sixth of March on 1848
Another Mary |Webster was acquitted in the infamous Salem trial 1692/3