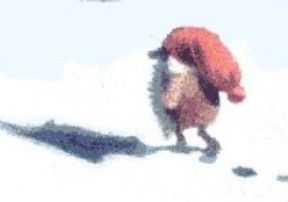 Tonttu
Tonttu is a difficult word to translate. Sometimes it is translated as elf,
sometimes as gnome.
There are several types of tonttu.
There is navettatonttu that lives in the cowshed (navetta) and takes care of the cows.
There is tallitonttu that lives in the stables (talli) and looks after the horses.
And there is tupatonttu that takes care of the house (tupa is a large room with a masonry oven).
Tonttu are generally benevolent creatures but if you mistreat animals or do not take good care of your house , they can get nasty.
...

Finally, there are joulutonttu (joulu = Christmas), who work for Father Christmas.

They always wear red hats. It is part of their uniform. They make the presents and eavesdrop underneath your window to hear whether you have been naughty or nice
The tupatonttu sounds like a brownie in English.
tupatonttu would be a good translation for tupatonttu