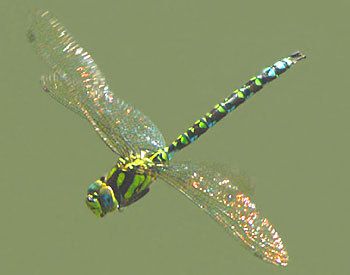 The dragon-fly, hovering above the leaf, is the greatest of our British dragons of the air.
The green and gold body glitters in the sunlight as the great, translucent globes of its compound eyes look out in all directions for some succelent insect to chase, catch and tear to pieces.
Its name is Aeschina cyanea, and it is well worth a close look.
The face seems to be all made of the great eyes, but underneath them strong jaws are in constant motion in readiness for the next bite