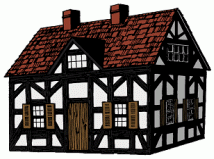 In the later medieval period the houses of the rich were made out of brick. However, brick was very expensive so many chose to make the half-timbered houses that are now commonly referred to as Tudor houses.
Tiles were used on the roofs and some had chimneys and glass in the windows.
These houses had two or more floors and the servants slept upstairs.